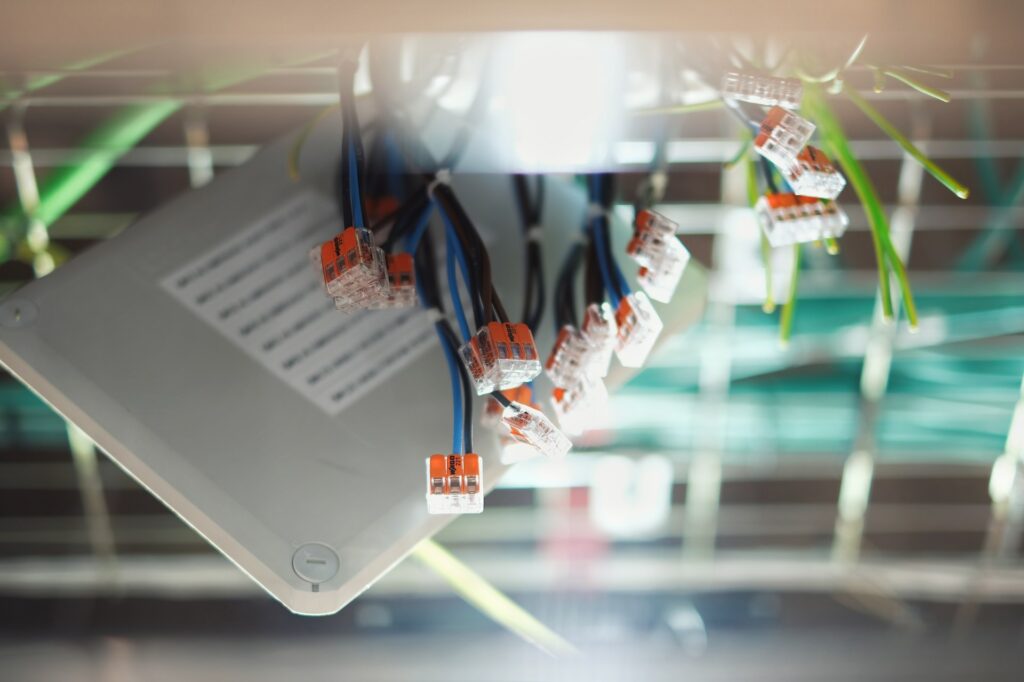 Hiring a professional and experienced Vienna electrician like STEF-Elektrotechnik is an excellent way to ensure the safety and quality of your electrical work. We as a professional electricians are knowledgeable in the latest electrical codes and regulations, saving you from potential fines or legal issues. Additionally, we have the experience and skills to provide fast and efficient service. Hiring us also gives you access to the latest technology and advanced equipment, resulting in an optimal outcome for your electrical needs.
Sehr professionelle Beratung und perfekter Service. Definitiv unser bevorzugtes Unternehmen für alle Elektroinstallationen.
Bei unserer Küchenrenovierung haben wir die Elektroarbeiten von STEF-Elektrotechnik durchführen lassen und sind äußerst zufrieden. Die Arbeiten wurden wie vereinbart pünktlich vorgenommen und trotz Stemmarbeiten alles sauber verlassen. Perfekt!
Top Unternehmen mit super Sicherheitstechnik und den besten Elekriker Dienstleistungen. Sehr zum empfehlen!
Noah Louis Zünd
22/08/2023
Top Service, gute und einfache Kommunikation
Wir haben eine Beratung in Anspruch genommen für Alarmanlage in unserem Haus genommen. Wir sind beeindruckend von Professionalität und kompetenter Beratung für Möglichkeiten und Neuigkeiten von Alarmanlagen. Wir sagen Danke an Firma Stef-Elektrotechnik und freuen wir uns Ihre Leistungen in Anspruch zu nehmen.
Sabrina Cerepak
31/07/2023
Ein Elektriker der sich geduldig meine Fragen angehört und geholfen hat. Dankeschön, ich finde es wichtig und ein ganz tolles Zeichen der Kundenfreundlichkeit, dass selbst wenn er die Fragen sicher schon unzählige Male gehört hat, dennoch die Zeit genommen wurde sie mir, zu beantworten.
Abendroth Architekten
28/07/2023
Elektriker Familienbetrieb in Wien mit umfassendem Angebot und solider Ausführung. Spezialisten für Medientechnik Installationen und Digital Singage.
Super Team, wir, die Firma MGS, arbeiten sehr oft mit dieser Firma zusammen. Toller Service, perfekt ausgeführte Arbeiten, gute Information, pünktlicher und sauberer Service. Sehr zu empfehlen.
Eirini Antoniadou
17/07/2023
Excellent communication, reliable and quick service. I made all arrangements in English which was very helpful. I will definitely call them back for any electrical work.
sehr schnelle und gute Kommunikation, verlässlich, reibungslose & gute Arbeit - kann ich nur weiterempfehlen
1. Benefits of Hiring a Professional Electrician Vienna
When it comes to electrical work in your home or business, it's always best to hire a professional electrician. Not only do we have the necessary training and experience to handle any electrical issue, but we also have the proper tools and equipment to get the job done safely and efficiently. One of the biggest benefits of hiring a professional electrician is that we can help you save money in the long run. We can identify and fix any potential electrical problems before they become major issues that require costly repairs. Additionally, professional electricians can provide you with expert advice on how to improve the energy efficiency of your home or business, which can also save you money on your utility bills.
2. Safety and Security
One of the top reasons why you should hire a professional Vienna electrician is for the safety and security of your home or business. Electrical work is not only complex but also dangerous, and attempting to do it yourself or hiring an unlicensed electrician can put you and your property at risk of electrical shock, fire, or other hazards. Professional electricians are trained and experienced in handling various electrical issues and can identify potential safety and security risks that may be overlooked by amateurs. We also have the proper tools and equipment to complete the job safely and efficiently. Hiring a professional electrician can give you peace of mind knowing that your electrical system is up to code and functioning safely.
3. Diversified Portfolio
As an electrician, we offer a diversified portfolio of services that can benefit any business. From security systems and CCTV to alarm systems and access control, we have the experience and expertise to meet your needs. We also offer digital signage solutions and customer flow management, as well as network systems and PAT testing. Our team is specially trained to help international companies with their electrical needs, so you can rest assured that you're in good hands. Contact us today to learn more about how we can help you create a safe and efficient working environment.
Call us now – and get instant your professional service
4. Cost Savings in the Long Run
While it may seem tempting to tackle electrical work on your own or hire a cheaper, unlicensed electrician, this can actually end up costing you more money in the future. We have the expertise and experience to identify and fix any underlying issues, preventing future problems and potential safety hazards. We also use high-quality materials and tools, ensuring the longevity and durability of their work. In contrast, a DIY or unlicensed electrician may use subpar materials and make mistakes that could lead to costly repairs or even a complete rewiring down the line. Additionally, a professional electrician can advise you on energy-efficient solutions, ultimately reducing your energy bills and saving you money in the long run. So, while it may seem like a larger investment initially, hiring a professional electrician can actually provide cost savings and peace of mind in the long term.
Our Customers
At our company, we pride ourselves on having an enduring relationship with our customers. We understand that trust and loyalty are key components in any business relationship, and as such, we strive to ensure that ours is long-lasting.
We place value upon the opinions of our customers and work hard to provide them with a service which exceeds their expectations. We believe it is essential to develop strong relationships so that we can better serve our customers' needs; ensuring they receive the highest quality product at all times.